Some years ago, David Kpondehou migrated to Japan on the Awaji Youth Fellowship – a program that empowers the next generation of leaders to be change makers through innovation and sustainability.
Out of over 1000 applicants, he was part of the final 30 selected globally to be part of the Fellowship.
His passion and desire to create impact by connecting the continent of Africa and Japan, which was borne out of his own experiences propelled him to establish the Africa Diaspora Network Japan (ADNJ).
The ADNJ is a network of African communities in Japan, including those of African descent which operates different associations with an aim of strengthening Japanese and African socio-economic development ties.
"There were individual associations from various African countries, and so my idea was to bring these communities together to support each other, and create impact through a united front which also gives us more credibility in strengthening the Africa-Japan bond for development.", David said about what inspired him as the Founder of the organisation.
Today, ADNJ is in its fourth year and growing.
The membership-based platform has connected with established organisations such as the Osaka Chamber of Commerce, diplomatic missions, policymakers and various stakeholders together for common action, focusing on community building, entrepreneurship, business and culture.
"At ADNJ, we want to position Africa as a business hub, and also showcase the good the continent has to offer. Our research shows that only about 500 Japanese companies have business presence in Africa and so we are working to increase the numbers for mutual benefit and to make Japan a key business partner of Africa", David said.
"We also provide business matching services to Japanese companies mainly SMEs to expand their business to Africa. Our key resource lies therein, that people of our network come from different African countries, and so through intercultural understanding, we can bring Japan and Africa together", he added.
'Discover Africa' is a monthly online event series held by the ADNJ which features all the 54 countries on the continent one by one; allowing for Japanese people and companies to learn about African culture and business opportunities together with the African community in Japan. So far, about 22 countries from West, North and Central Africa have been featured.
"Discover Africa Food" is an exchange event aimed at promoting understanding of Africa through food culture.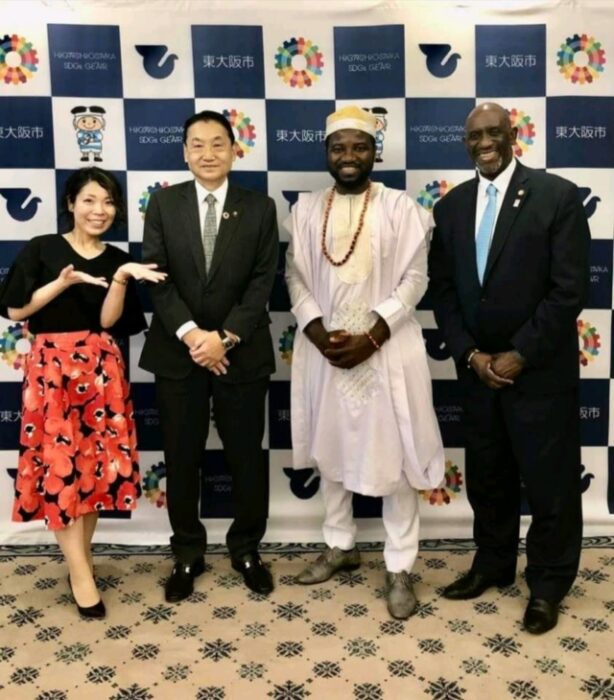 ADNJ will be organising and hosting the 'Osaka Africa Business Forum' on October 20, 2022 at the Higashi-Osaka City Cultural Creation Center, as part of its efforts in building trustworthy socio-economic ties; and will see major stakeholders on the continent and in Japan coming together at this unique event.
Co-organized by Higashiosaka City and Organization for Small and Medium Enterprises of Japan, and supported by Osaka Chamber of Commerce and others, the purpose of the Forum is to promote understanding of Africa among Japanese companies (especially SMEs) – mainly in the Kansai region of Japan. It will introduce the African culture, business, current state of the continent, as well as provide Japanese companies the opportunities for future business development.
The 'ADNJ Awards' is a yearly recognition of the African Diaspora Network Japan to specifically distinguish people playing an important role for Africa, and Africa-Japan socio economic development ties. The Awards aim to encourage people making effective efforts to bring Japan and Africa together as one community through their outstanding leadership, activities and professional services.
ADNJ also supports partnerships between Japanese companies and African companies, organising Africa-related events in Japan mainly in the Kansai region, in addition to supporting individual and corporate travel to Africa through the ''GO to AFRICA'' program which is set to guide Japanese companies or individuals to visit Africa to understand better the current situation and opportunities. More specifically, it provides business tours for companies and sightseeing packages for individuals who are interested in visiting any African country. This is conducted in collaboration with the ADNJ business network in Africa and tour organizations. Individuals' visitors and families could also stay in African families' ''Africa Homestay'' to learn more about the culture and interact with the local community.
David believes in the power of the youth in shaping the narrative of Africa with the right mindset and available opportunities. This is why he runs Africa Samurai Consultancy in his home country of Benin to provide skills training to the youth and also help them to get job opportunities.
In his years of staying in Japan, David realised that one of the challenges African students face when it comes to further exploring opportunities in the country is language barrier, and so the ADJN also provides orientation for new students who migrate to Japan during the initial period of their stay.
"The Japanese society inculcates the values of honesty, politeness and consideration for others in its people at a very young age. Africa as a continent similarly has its set of values too and so, I believe there is a lot we can all learn from each other to create win-win situations for mutual benefit", David concludes.
The ADNJ platform is open to individuals, companies, national and international organizations, universities, and governmental organizations.
To know more about the Africa Diaspora Network Japan, kindly visit their website or connect with them on Social Media.
By: Theresa R. Fianko
Additional Information: David Kpondehou
Image Attribution: David Kpondehou
RELATED STORIES