Dubai is the commercial and if you like 'luxurious' capital of the United Arab Emirates. It is a place of diversity where you can find people of all nationalities. The City has become a second home to the many expats living and working here due to its world class infrastructure, social amenities, standard of living, safety and religious tolerance. To fully enjoy what Dubai has to offer; whether you are a resident or a tourist, you will need to know what to expect especially with regards to culture and lifestyle.
Travelling into Dubai
Dubai is the main aviation hub in the Middle East region, and an easy connection point for travelers on their way to several global destinations. You can get into Dubai by air through its two major airports: Dubai International Airport and Al Maktoum International Airport. You can also come in by road via neighboring Emirates or countries, and by sea through its ports. With the right documentation, immigrations shouldn't be a hassle.
Getting around
Once you get into Dubai, it is easy to find your way around. The country's official currency is the UAE dirham, though major trading currencies are also accepted by most merchants and outlets. Arabic is the main language however due to its large expat community, almost everyone can understand basic English and public signs are written in both English and Arabic. Sim cards are available to buy in most outlets, and so communication should not be a problem. Data is also averagely priced. Some websites cannot be surfed in the UAE though, so you can check these out before embarking on your journey.
Transportation
The Dubai Metro is a popular means of public transport for residents and tourists with a convenient rapid transit rail network. It has a route system which grants easy access to most of the tourist, residential and business areas in the city. This makes it a valuable transportation choice for beating traffic. To use the metro, you'll need a valid Nol card which you can buy or top up from the metro station ticket office, vending machines and RTA approved agents. You can also use the Nol card on properly connecting bus routes. Taxis are very easy to catch as well as other private modes of transportation. With a valid local or international Driver's License you can also buy or rent a car.
Accommodation
Accommodation is easy to find in Dubai, and depending on your budget prices may vary.
Where to go
Dubai is popular for its many attractions and you will be spoilt for choice in what to do, depending on the amount of time and money you have to spend. The City is sectioned into Old and New Dubai with the former being where its infrastructural development begun and has most trading centers nestled there. New Dubai is made up of newer developments located within competing skylines. Tourists attractions in Dubai include Burj Khalifa, Atlantis Hotel, The Palm Jumeirah, Burj Al Arab Hotel, Dubai Frame, Dubai Museum, Bastakia, Jumeirah Mosque, Miracle Garden, Dubai Creek and so much more!There are also public beaches and parks people can visit.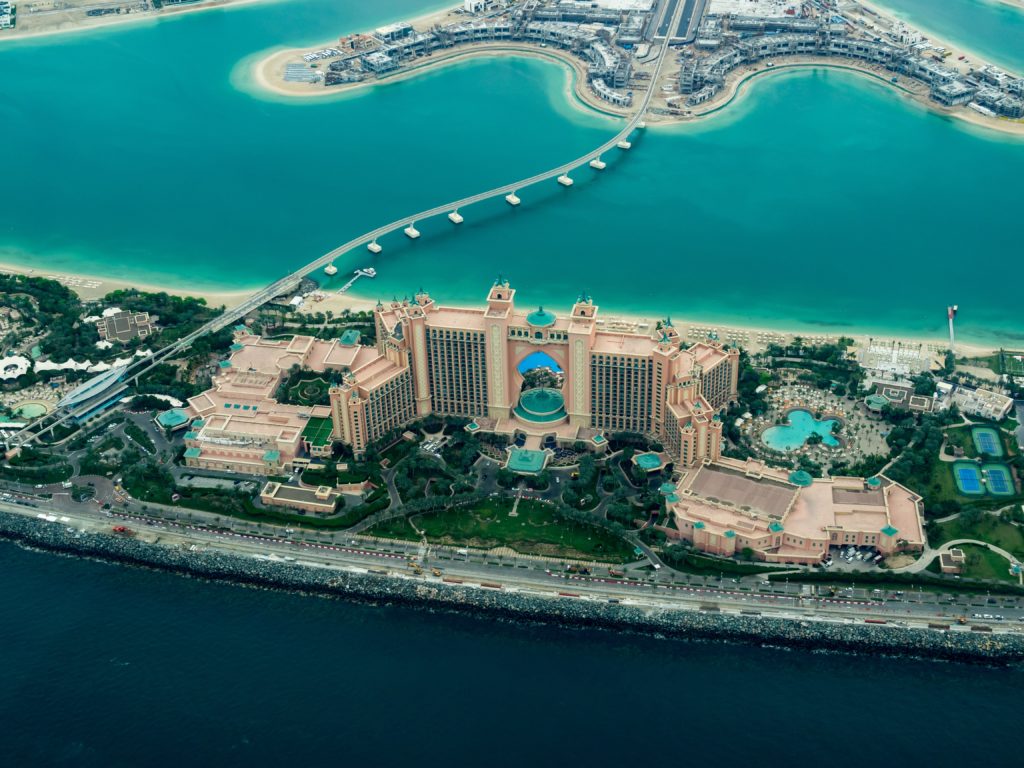 Eating out
Dubai is a cosmopolitan city and therefore you would find cuisines from all over the world. Popular eating areas can be found in Dubai Marina, Downtown Dubai, The Walk at Jumeirah Beach Residences, Deira, City Walk, Sheikh Zayed Road, Jumeirah Beach Road and many more. Make sure you visit a local restaurant to try out UAE cuisine.
Recommended local meal to try out:
Starters: Al Jabab bread is a delicious pastry with very traditional flavorings of cardamom, honey and rosewater. It has a taste of sweet and sour and a good starter for your Emirati culinary adventure!
Main Dish: Majboos is a must try for several reasons. It is a mixed rice and chicken dish cooked together until it is tender. Lamb or fish can also be used in place of chicken, but the blend of traditional spices and biriyani is a constant ingredient. The end result is a mouthwatering local dish which is sure to whet an appetite when served with chickpeas.
Drink: Camels are part of the rich history and heritage of the United Arab Emirates. Camel drink is therefore a delicacy here. It is served at most local restaurants and even sold in convenience stores. It is highly nutritious as well and is a must try whilst in Dubai.
Dessert: Luqaimat is a popular and sweet dessert, and the Arabic version of dumpling. Traditionally it was served as a dessert after breaking of fast during the month of Ramadan, but now on the menu of local restaurants.
Fruit: Date palm fruit is very common here and locally grown. It is sometimes served with Arabic tea, and most shops package them well so are good to be given as gifts.
Due to its large expat population, the Food and Beverage sector is a booming business in Dubai. Several international food chains operate with many branches and one can find any cuisine of their choice.
Where to shop
Dubai is a shopaholic's paradise. Its several malls such as The Dubai Mall and many shopping outlets will provide you with all the options you need to shop till you drop.
Working in Dubai
Several expats live and work in Dubai. There are several job opportunities from all sectors of the economy from Finance, Construction and Hospitality. One would be required to have an employment or residence visa to work in Dubai.
Social Etiquette
Though Dubai is high on diversity and inclusion, it is important to respect the culture and rules of the land especially towards locals. Dressing should be modest and respectful when going to public places such as malls and parks. Be careful with public display of affection as this could land you in trouble. It is okay for married couples to hold hands, but not beyond that in public. Most public spaces have separate sections for male and female. It is common to find these at gyms, swimming pools and even on the Metro, so be sure to respect this.
When eating, giving or receiving items, it is respectful to use your right hand. Do not offer pork or alcohol to a local as this is forbidden. Still on alcohol, one would require a license to drink and illegal possession will lead to fines or even a jail sentence.
Illegal drug possession and use is also prohibited with heavy punishments attached if caught.
It is not polite to initiate a handshake from the opposite sex especially to local; allow him or her to extend their hand first. Avoid pointing your hands or feet at locals, and do not point the soles of your feet when meeting with people. Be mindful of your social media posts; avoid posts suggestive of terrorist activities, religious intolerance, hate speech or disrespect to the nation's leaders.
Dubai has a predominantly large Muslim population one must be very decent and modest in their dressing especially during Ramadan. Public eating, drinking or smoking during active fasting hours is not allowed.
Ability to speak, read and write Arabic gives one an extra urge especially residents. Certain jobs require bilingual fluency. When dealing with government agencies it is common to find most documents in Arabic, however there are many translation services who can assist at a fee.
Where to meet locals in Dubai
It is easy to spot locals in their classic Abaya's for women and dishdasha for men in shopping malls and history establishments such as Bastakia and Dubai Museum. In fact, they will be your first point of contact when you enter the country at the immigration section. It is prohibited to take photographs of locals without their permission, so take note of this.
Most of the laws in Dubai are linked with the culture of the local people. It is important to have an idea about them prior to your journey to prevent inconvenience or a possible culture shock. Temperatures can also be extremely high and humid during summer. Dubai can however be a great place to start or grow your career and provide you with a good multi-cultural experience of a lifetime. Most people who migrate to other countries after living in Dubai are able to settle in without much difficulty.
Dubai is a modern city, high on innovation, technology and sustainability. It is also a popular destination on the tourism map. Be sure to always know what to expect by getting as much information as possible in order to enjoy the City!