By Sonia M. Wignall, with editorial contribution from Ludlow E. Bailey
Adding to the rich and inspiring artistic talent out of Nigeria is artist Nefe Ogodo, who was born in Warri, Niger-Delta region of Nigeria.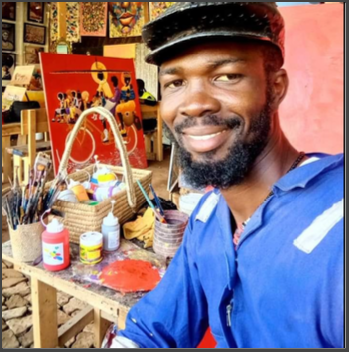 Nefe's passion for art developed at an early age. His style of characters, and theatrical elements are whimsical and soulful.
His work is rich, bold and deeply rooted in African culture and traditions, particularly as it pertains to the everyday life of African people.
His impressionistic style mixes contemporary and traditional design with features such as platform shoes, a multiplicity of colors, and a bold sense of animation in the composition of his paintings.
Capturing the beauty of the African heritage, Nefe uses a folkloric style in which he blends the detailing of figures and objects with a rich mixture of expressionism. Nefe sees and masterfully uses art as a form of communication. He uses his paintings to produce sensory expressions that allow the viewer to listen, hear and see that which may not be readily visible to the untrained eye.
He brings his dancers and musicians to life by giving his painted characters height, movements, and rhythm. He paints with a variety of mediums to create maximum visual and bold sensory effects.
One of his most impressive works of art is a 2010 mural located inside the Sculpture department of the "distinguished "Auchi Polytechnic School" where he once studied art.
Another one of Nefe's murals is on display at the new administrative building at the Ministry of Culture and Tourism in Adegbemile – Akure, Ondo State Nigeria.
Although a young artist, the global demand for Nefe's work continues to grow. His work has been exhibited in several prominent galleries, global group, and solo exhibitions, including,"Timeless Treasures", Imago Mundi Nigeria", "Echoes from Niger". The mega exhibition at the "Abuja Art Walk for Peace", "Millennium Development Goal Art Exhibition" (Setting the Pace), "Art Expo", an exhibition organized by the Federal Ministry of Culture and Tourism in Abuja, in 2018, "Fusion 5 art exhibition" (Cult House Limited, London, Candid Art Trust, Torrens Street in London). He appeared as a guest artist in the 2019 Identify Bikers Exhibition that took place in Tobix garden and park Abuja. Titled; "One Strong Nation" and also participated in the 2020 "Identify Bikers Exhibition" that was titled; Nigerian's will thrive. Tobix garden and park, Abuja, and the "ALIFEST" exhibition, organized by Abuja Literary and Art Festival, at Thought Pyramid Gallery Abuja.
Nefe currently lives and works in Ghana, where he had Solo exhibition in February 2022.
For more information contact: Ludlowebailey@gmail.com, 786.290.7359 (US) or visit www.cada.us.
By: Sonia M. Wignall
****Images used with full permission of Ludlow E. Bailey
RELATED STORIES