When Artist Chinedu Bright Ezeh began painting as a young child, little did he know that one day he would be considered among the most sophisticated artists out of Nigeria – an African nation, like many other nations on the continent, rich in culture, heritage, and the arts.
When preparing to present Nigerian multimedia artist Chinedu Bright Ezeh, my challenge was selecting a specific number of his work; against a backdrop of incredible works of art. Chinedu is undoubtedly one of Nigeria's rising stars with an unmatched ability to paint in incredible realism, while having the layered talent of bringing photographic images to life on canvas.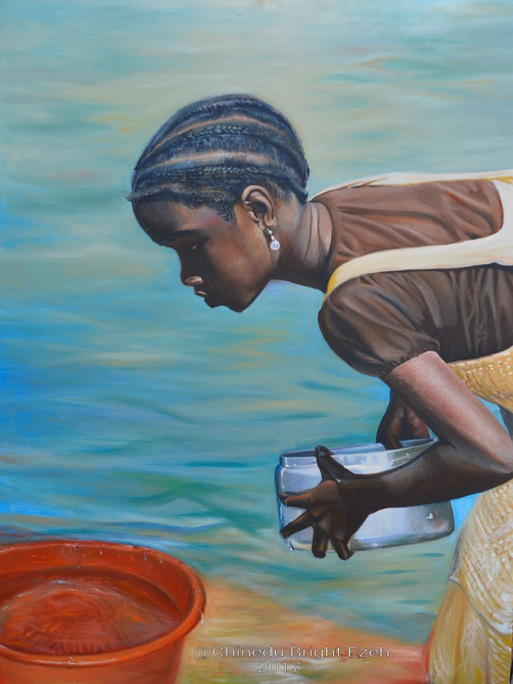 His work is deep, rich in structure, and unbelievably ethereal in its detail. His overall artistic performance is beyond outstanding. Chinedu's use of creative techniques to capture even the smallest details of facial expression, skin, hands, fingers, bone structure and color hues is brilliant in its application.
When I first saw the richness of Chinedu's work, I was in awe. Today I am absolutely delighted and honored to showcase him as one of our artist presentations in this series.
I presented a series of questions to Chinedu. He shared with me his mission, vision and desire to use his painting as an influence of "beauty, love, strength, peace, and hope. He believes that the celebration of children in art can be an effective way of creating and elevating the self-esteem among African youth. This empowerment will strengthen them to create the global social and economic changes that their generation will need.
Chinedu was born in Enugu State, Nigeria. He showed an incredible aptitude for painting at an early age as he developed a passion for drawing. Later on, he studied at the "The University of Nigeria", Nsukka Enugu State, where he was introduced to colors, and the use of mix mediums and specialized techniques. His training at the University has paid off well. Today, Chinedu's design style is rich and infused with details. His figurative work is exquisite, cultured and impressive. Because of the detailing of his work, he can sometimes spend up to a month to create a specific work of art that would be considered a masterpiece on the global art market.
As an avid photographer Chinedu uses photography as references and creative ideas for his paintings, which are done out of a studio in Abuja, Nigeria. His work, as we can see, is also inspired by the authentic beauty, dimensional characteristics, and organic nature of children.
He masterfully captures the most charming and natural details of their everyday lives, sensitivities, distinctiveness and candor. He is a genius in the use of hues to express the various color tones of the skin.
Chinedu's long term vision is to create an art school for children where they can paint and create global influence.
Chinedu's exhibitions have mostly been in Nigeria, where he is a "hidden gem". His exhibitions include, the International Open Art Expo Exhibition Pavilion Abuja 2017, Abuja Unlock Exhibition 2017, Art4Dev. Expo Abuja 2018, LIMCAF Exhibition 2019, Elbowroom Art Exhibition, Abuja, 2021, Celebrating Womanhood Art Exhibition Abuja 2021 and others.
With such a high level of talent and mastery, I look forward to watching Chinedu, like many other artists emerging out of the richness of Nigerian culture, become a major "Art influencer" on the world stage.
For more information contact: Ludlowebailey@gmail.com, 786.290.7359 (US) or visit www.cada.us.
By: Sonia M. Wignall.
Editorial Contribution from: Ludlow E. Bailey.
****Images used with full permission of Ludlow E. Bailey
Subscribe to our newsletter!
[newsletter_form type="minimal"]
RELATED STORIES