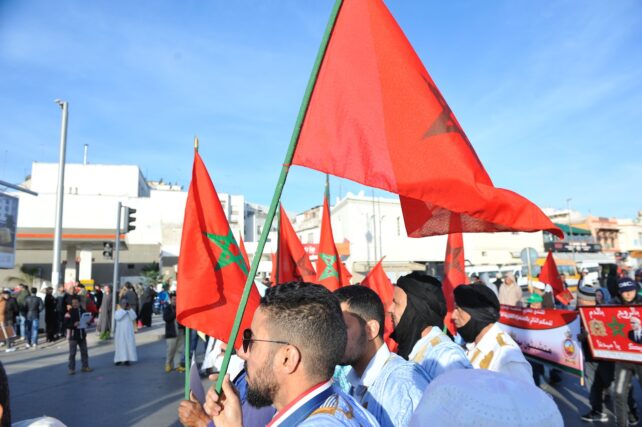 December 7, 2022 – On Tuesday, Morocco's Atlas Lions became the fourth African team to qualify to the quarter finals of the FIFA Men's World Cup, after knocking out their Spanish counterparts on penalties at the Education City Stadium in Al Rayyan, Qatar.
Moroccan goal keeper, Yassine Bounou stopped three Spain penalties to advance as quarterfinalists of the 2022 FIFA World Cup – first time for the country.
The triumphant Moroccans, who are the only African team left to compete in the Mundial will face Portugal on Saturday, December 10, 2022 for a chance to be the first country on the continent to advance into the semi-finals.
Only Cameroun, Senegal and Ghana have made it to the quarterfinals stage, however, none of them have been able to advance further.
The Atlas Lions have made an impressive run in the competition so far: topping their group with seven points – the highest points recorded, and a feat jointly achieved by the Three Lions of England at this year's group stage of the competition.
Ironically, an integral part of the team was born or played in Spain (who they sent packing home after their famous victory). Others were also born, or are residents of other nations.
And so, what's the 'diaspora connection' with the current talented Atlas Lions of Morocco team? An assembly of players born or living abroad, built into a solid team to compete at football's highest level for their homeland.
Here's a brief profile of a number of integral members of the trending football team:
Coach: Walid Regragui, 47 years – born in France, was a full Moroccan international footballer before becoming a coach.
Full back: Achraf Hakimi, 24 years – born in Spain, plays at club level for PSG in France, and chipped home the winning penalty for Morocco in the round of 16. He could have also opted to play for France.
Defensive Midfielder: Romain Saïss, 32 years – Captain of the Atlas Lions, born in France, plays at club level for Besiktas in Turkey.
Attacking Midfielder/Winger: Hakim Ziyech, 29 years – born in Netherlands, plays at club level for Chelsea Football Club in England.
Goalkeeper: Yassine Bounou, 31 years – born in Canada, plays at club level for Sevilla FC in Spain.
Right back: Noussair Mazraoui, 25 years – born in Netherlands, plays at club level for Bayern Munich in Germany.
Attacking Midfielder/Winger: Sofiane Boufal, 29 years – born in France, plays at club level for Angers SCO in France.
Central Midfielder: Sofyan Amrabat, 26 years – born in Netherlands, plays at club level for ACF Fiorentina in Italy.
Attacking Midfielder: Abdelhamid Sabiri, 26 years – born in Morocco, but also a German citizen who plays at club level for U.C. Sampdoria in Italy.
Striker: Youssef En-Nesyri, 25 years – born in Morocco but mostly lives in Spain where he plays as a forward for Sevilla FC at club level.
These are only a few members of the diaspora stars in the Moroccan Football team. With a strong urge for these talented footballers who are also a generation of expatriates to maintain strong ties to their motherland as we have seen with other teams in this year's World Cup, it would not be far fetched to consider focusing on the role of sports when having a dialogue or framing policies on effective diaspora engagement.
By: Theresa R. Fianko
Find out how our CONSULTANCY can help you with your Content Writing, Digital Marketing and PR requirements HERE.
Check out the latest diaspora, migration and diplomatic related Jobs HERE.
Submit your Press Release / Related Contributions HERE.
RELATED NEWS AND STORIES