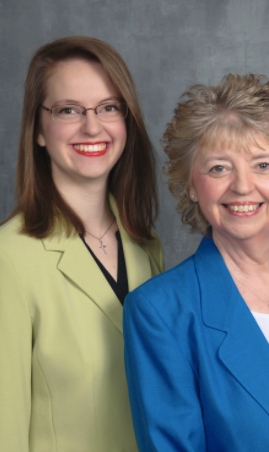 The months of May and June each year are scheduled times for most American colleges and universities to hold their graduations. It is a period of celebration for graduating students and parents who come together to see the reward of their labour. The anticipated gathering is not to be for the graduating class of 2020, because of lockdown restrictions instituted to curb the spread of the ongoing COVID-19 pandemic.
In line with recent developments, it is very welcoming when Mother and Daughter, Elizabeth and Anna Franklin team up to Author a useful and life transforming book for high school and college students. "Time 2 Thrive – College Edition" is part of The Time 4 College Series by the same Authors whose aim is to guide students to thrive successfully by discovering themselves and knowing what to do in order to avoid failure pot-holes. After finishing the book, students should be equipped to find fulfillment for the reasons as to why they came to college, and be adequately prepared to thrive in life outside with the nuggets provided to aid them on whatever path they choose.
High school is different from college. Approaching both the same way will be equals to failure; and the book underscores this in its content extensively. It also seeks to explain that college is a new life experience, and so must not be approached with a high school mentality. The variety of tips given will help to alleviate college stress aforehand as both Authors write with hands-on experience on how to manage struggles that prevent students from succeeding. It is a transformational book with relevance to the global events of 2020, in an era of COVID-19 which has changed the way we live.
Inspirational Author and Speaker, Elizabeth Franklin (also known as MamaLiz) and Anna E. Franklin, a college student share their success stories through first-hand experience plus a successful and rich career background. Anna brings youthful exuberance to the writing with her college experiences. Liz on the other hand brings in her lifetime encounters; from finding a career path to fueling the success trigger that have led her to live a fulfilling life. This is the first book they have co-authored.
Chapter One of the book starts with Liz and Anna's experience at a popular fast food restaurant where an employee demonstrates real customer service in an impressive way, catching the attention of mother and daughter. The attitude of the employee who gets a mention in the book, sets the stage for the beginning of a good read and differentiation between a "survivor" and a "thriver" as his "going above and beyond" qualities earns him a recommendation for future promotion! The essence of that particular encounter is crucial as it proves that there are performance quality traits that make people to excel in whatever they do.
One of the things that cannot be missed in Time 2 Thrive – College Edition is how Anna adds real life experiences at the end of various Chapters to further illustrate the values and principles that have been discussed. You will have to read the book in full to obtain more tips.
This book is certainly a good and highly recommended read, not only because it provides tips for college students to thrive, but also the principles and standards discussed in its contents are one that would ensure anyone to excel at whatever they do in life.
Another inspiring moment in the book is found in the fourth Chapter where Anna's story about finding her own talent is revealed. From her early interest in weather forecasting, writing and illustrating her own book by age six, to her amazing dance talent motivations is a feature that is bound to inspire every young reader who is still trying to figure out their path in life. It also explores how she navigates through wrong choices, to the extent that she changes her major to a new course which ticked all the boxes of her interest points. All these eventually work out for Anna's good in bringing her to a clear career choice.
Ilario Tariello, who is featured in the book adds meaningful and motivating afterthoughts, containing rich advice in answering the "what will you do" question.
Featured also is Melissa Montfort, who shares her college experience in "A Note from the Other Side" and validates the need to finding one's passion and vision sooner or later in life.
The reader can be guaranteed several life transforming nuggets that can be picked up from spending almost two hours in reading this book; especially to those for whom it is dedicated as the Authors succinctly put it "to all the greatness in your generation and the special class of 2020."
Th one-hundred-and-ninety-page book includes a Preface, Foreword, Dedication and Author information.
In communicating with Liz Franklin, she outlines some of her reasons for writing this book with reference to her passion for high school and college students. Reading page by page, it is easy to notice that essential topics are covered. The book is interspersed with assessments that aids the reader to find information about themselves immediately concerning what they have read. It also explains why first year college students with a high school mindset have a hard time, as they adhere to wrong habits, attitudes, and priorities.
Time 2 Thrive – College Edition is free for every high school or college student in the world throughout the month of May in honor of the class of 2020 who have been denied full graduation festivities due to the Coronavirus lockdown. To download, click here (www.lizfranklin.com). The paperback version is available on Amazon with an e-book.
At the moment, the book is being translated into Italian, Spanish, German, French, Afrikaans, and Arabic so that people around the world can enjoy the free e-book link as well.
Part two of the series; "Taming the Time Monster – College Edition" is scheduled for release during the first week of June 2020.


SOME UNFORGETABLE QUOTES FROM TIME 2 THRIVE – COLLEGE EDITION
"The best way to overcome failure in college is to avoid it all together."
"Distractions and social life are the hardest two things to control in life to remain focused on reaching your goals."
"A good rule of thumb is never to make a major decision about a long-term time commitment before you sleep on it."
"College is about preparing for your passion."
"Don't allow poor habits to wreck your college journey and destroy your life."
ABOUT THE AUTHORS
Liz Franklin is an inspirational Author and Speaker who has published numerous time and success books for children, teens, and adults. Liz and Anna, along with Ilario Tariello and his daughter Serena, wrote an e-book for children during the COVID-19 crisis that was translated into over 30 languages. She has been recognized in America's Top 2000 Women, Who's Who of Women, Who's Who of Professional and Business Women, Notable American Women, Five Hundred Leaders of Influence, and many others.
Anna Franklin is a current Honors Communication studies major in the Chancellor's Honors Program at the University of Tennessee, with a minor in Geography studies (meteorology con centration). She has published multiple children's books and has received national awards for research in the area of severe weather communication. Anna serves as an Honors Ambassador at UTK and is an inductee in The National Society of Leadership and Success.
Visit www.FranklinandFranklinBooks.com.
By: Theresa R. Fianko
Image Credit: Liz & Anna Franklin
Share this: