Michael Chukes is a California born, multi-media artist.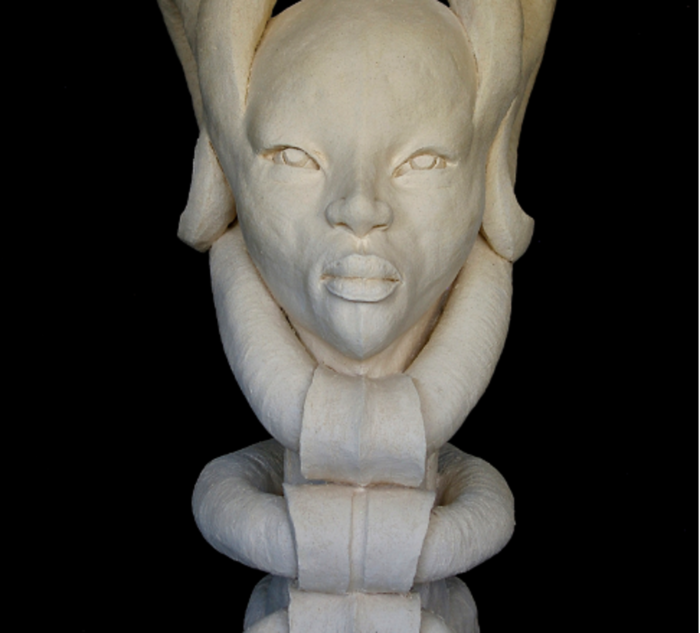 His name originates from Nigeria, and means "man of God, most high". He is known by "Chukes" and is indeed like the African Bird "Wru", flying around and seeing everything.
"I am an artist. I create from the infinite energy of the universe. Art is my truth when words are not enough. I am becoming my own creation!." Chukes
This quote from Michael Chukes epitomises the core character of his artistry. He truly is one of the most insightful and intellectual artists of our times.
His spiritual perception is uncommon. He is considered one of the most brilliant and prolific thinking sculptors in the world. He is a trained classical artist who has consistently used his art to identify some of the most important issues that continue to impede the growth of Black people around the world. Chukes believes it is critical for black people to understand and build a narrative that is in alignment with their true identity. His work speaks to the outstanding contributions of African people in the development of humanity and epistemology.
Inspiration of the Black Woman
The image above, shows Chukes working on a sculpture called "African Violet". The image to the left is titled "Identity Theft". Much of Chukes work and inspiration comes from the Black woman. Many of his pieces illustrate the organic and powerful nature of the Black woman and her association with the earth and the origin of humanity.
His sculptural art work brilliantly captures the beauty, essence and regality of the Black female.
Chukes treasures the inspiration he has received from Black women. That deep level of inspiration originally came from his mother, but now also from his wife. He uses that inspiration and influence to celebrate the leading role that Black women play in the origin of civilization and the survival of the black race.
"Much of my work is focused on females. For me, there is much greater sensitivity in women. They express emotions more freely. It is that freedom of emotions that I want to capture in my work". I am so proud to have women that are so strong yet love me and support my work."
"When I feel that agape love, I can feed into those emotions and you can see
it in my work." – Chukes
His Work/Vision
After 40 years as a studio artist, Chukes continues to produce work that is detailed, bold, provocative, afrocentric, and spiritual. His work represents an accurate narrative of the Black experience. He brings a very powerful interpretation of that experience in ways that allows us to understand his passion for black empowerment and achievement.
Chukes's unique vision is connected to a profound expression and representation of the spiritual and metaphysical infrastructure of Blackness. His art and writing is inspired by his desire to not just create art, but to use his art as a medium to engage and raise the consciousness of his audience.
I recently had an opportunity to interview Chukes about his journey, work, and his newly released book, Identity Theft.
Chukes use of the title, "Identity Theft " represents a collection of works that includes the book, and 70 plus works of art. The entire collection (book and art), speaks to the issue of a "stolen" legacy of black achievement and heritage.
The collection in many ways unpacks and reveals the real history and identity of Black people that has been hidden from the world since the inception of the transatlantic slave trade.
This project was years in the making.
One of Chukes finest works of art in the "Identity Theft" collection is a blank frame called "Portraits of a Nigger". This profound art work is expressed with a blank picture frame which symbolizes the truth that the "Nigger" does not exist.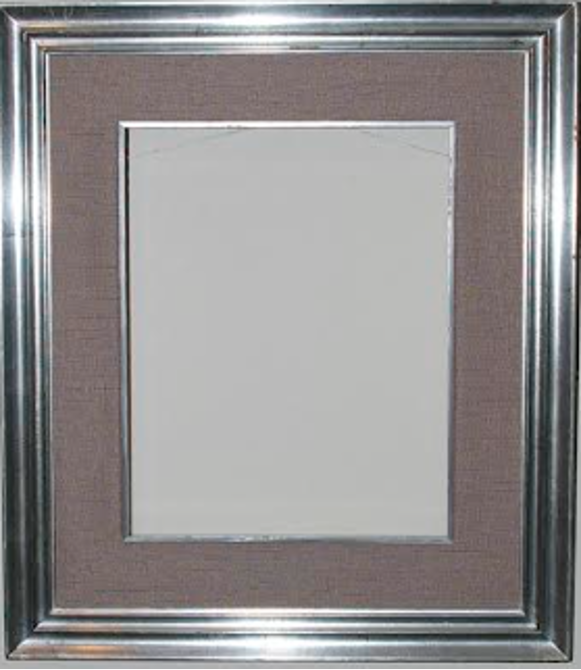 Portrait of a Nigger by Chukes
Most Black people in the modern world have no knowledge of their true history/identity. The historical narrative of Black achievement and exceptionalism has been concealed and distorted by the entire global community.
The "Identity Theft" book is an extensive elaboration of this truth. It also sheds light on the confusion and trauma that continues to plague the global Black Community.
The Press Release for the book describes it as follows:
"Identity Theft: Creations From a Social Conscience"
Foreword by David Pagel:
"Extraordinary collection of artist's sculptures and paintings invite you to contemplate the causes and effects of misrepresentation of historical facts and its dire effects on the past and present world through his distinctive point of view."
Los Angeles, April 2023 —
"Foreword by David Pagel, Professor of Art Theory and History at Claremont Graduate University from the book: The hands-on, labor intensive integrity of his workmanship puts great demands on himself while at the same time inspiring us viewers to be our best selves—to pay attention to details—to see beyond the obvious, to sense what is invisible, to question what we have been told, and to think for ourselves."
"Chukes' creative voice is captured in his new book Identity Theft that represents the majority of pieces he began working on since 2016 with a select few of them being exhibited in galleries around the world."
"Identity Theft introduces you to a body of work that was initially a protest against the televised brutality and killings of Black people and people of color in America and throughout the world. But the world changed in the past few years, and Chukes'
art evolved with it. His artistic representation is what happens when people or a nation of people are stripped of their indigenous identity and re-taught a history
that has historically and maliciously filtered the truth, presenting incorrect versions of past and present injustices. Chukes tells the truth by bringing history to life in his art and commentary."
Other significant works of art in the "Identity Theft" collection includes:
Target Practice, Protecting the Future Generation, Africans Only, Subliminal Man and Statute of Limitations.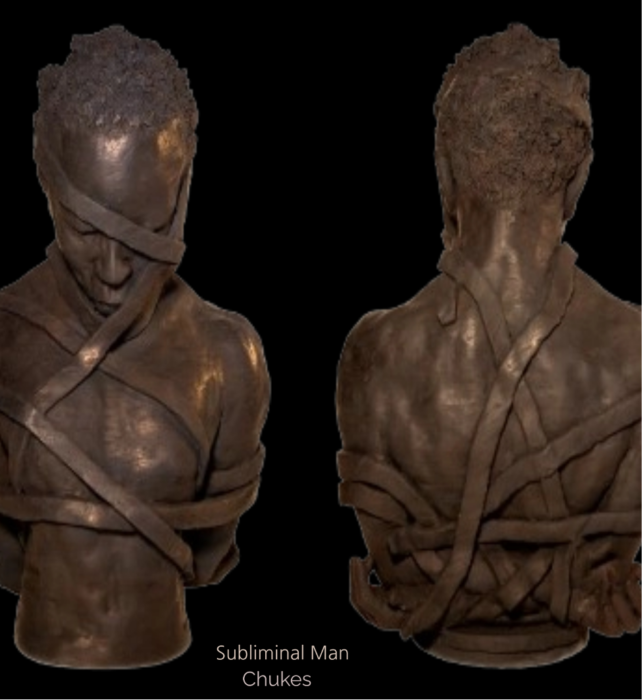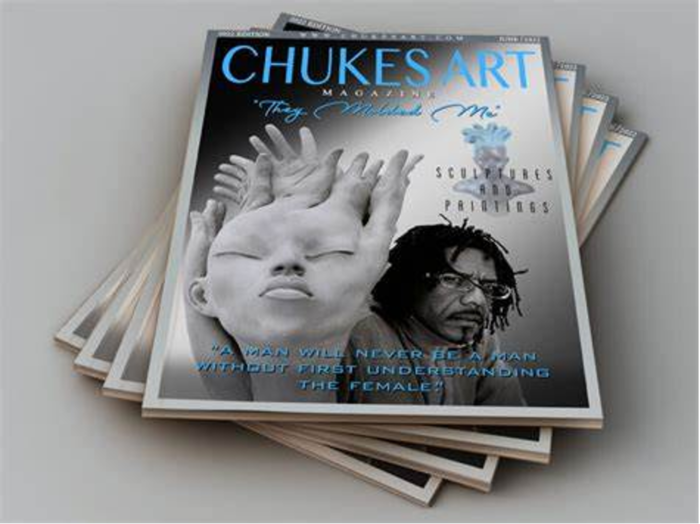 "Great civilizations are known by what they create and what they destroy. My life is built around my art." – Chukes
Michael Chukes wants to be remembered as an artist whose written and visual work made a significant contribution to the growth, identity and empowerment of black people globally.
To see more of Chukes work, and the Identity Theft collection visit www.chukesart.com
Written by: Ludlow E. Bailey
Content, including images used with the full permission of Ludlow E. Bailey and Contemporary African Diaspora Art (CADA).
Visit: www.cada.us
Find out how our CONSULTANCY can help you with your Content Writing, Digital Marketing and PR requirements HERE.
Check out the latest diaspora, migration and diplomatic related Jobs HERE.
Submit your Press Release / Related Contributions HERE.
RELATED NEWS AND STORIES