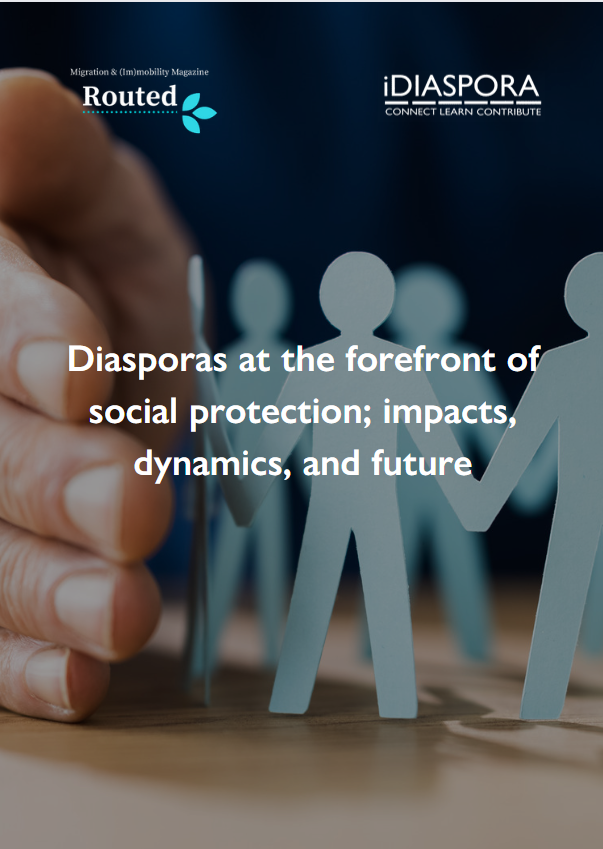 Routed Magazine and iDiaspora have successfully collaborated for the second time to produce a special issue on diaspora engagement.
The publication titled 'Diasporas at the Forefront of Social Protection: Impacts, Dynamics, and Future Opportunities' highlights how diasporas are leading the way in social protection efforts and reshaping traditional perspectives of development and humanitarianism in their communities and beyond.
In the forward of the publication, Elizabeth Warn, Head, Labour Mobility and Social Inclusion Division, IOM HQ, noted that, "limitations in migrant coverage and access have given rise to a plethora of informal measures, including those provided by transnational communities and diasporas who support their families and communities through personal networks, granting access to healthcare, education, retirement, and social security."
She therefore hopes that this publication will "inspire to support the elevation of the voices of diaspora leaders worldwide for more favourable social protection outcomes in their communities."
Some of the topics tackled in the publication include:
Youth-Led Diasporas for Gender Equality: Gender-sensitive social protection in migration contexts – Yasmina Benslimane
Indian Emigration to GCC Countries: The impact of remittances on the social protection of the migrant family – Satish Kumar and Anjali Mehra
The Bangladeshi Diaspora: Unsung champions of confronting climate change-induced disasters – Md Fazle Rabby
Brown Skin in White Coats: The Filipino diaspora at the frontlines of the pandemic – Romina Eloisa M. Abuan, Elora Mae G. Atos, and Katrina R. Guanio
Decolonisation Discourse: Perspective on Afro-Belgians – Jimmy Hendry Nzally
Empowering the Diaspora through Solidarity and Transnational Social Protection: The Case of The Kerala Muslim Cultural Centre – Farseen Ali Puthanveettil
Empowering Communities: The vital role of diasporas in social protection in Cameroon – Charles Simplice Mbatsogo Mebo
Editors in chief for this publication are Larisa Lara Guerrero, Transnational Communities and Digital Communications Officer at the IOM Headquarters in Geneva, and Margaret Koudelkova from Routed Magazine.
It will be recalled that in 2021, Routed Magazine and iDiaspora successfully collaborated to publish an e-book titled "Empowering Global Diasporas in the Digital Era."
To read more, download the entire publication here:
Source: iDiaspora / Routed Magazine
Image Attribution: iDiaspora / Routed Magazine
Edited by: Theresa R. Fianko.
Find out how our CONSULTANCY can help you with your Content Writing, Digital Marketing and PR requirements HERE.
Check out the latest diaspora, migration and diplomatic related Jobs HERE.
Submit your Press Release / Related Contributions HERE.
RELATED NEWS STORIES