Evelyne Keoman is the Founder of The Karat School Project. After growing up in Ivory Coast, she moved to the US in 2006. From her personal experience, she believes that education is what makes the difference in breaking the cycle of poverty within societies.
We are happy to speak with her as she shares her own story, and also how her organization is helping to make a positive impact in the lives of women and children through Philanthropy.
Personal Experience
"I come from a tribe in Ivory Coast where female education is not a priority.
There are widespread practices of female genital mutilation, marginalization of girl child education, and early marriage depending on the religion of your family. By the time I came about, I was child number seven! My parents were more interested in me becoming a good wife, rather than being good in my education because it is believed that is what girls are good at. Even as a child, I did not necessarily subscribe to that. Today, I look back and what really makes a difference for me from that girl that I was when I was younger to who I am today is education.
And so, I am of the opinion that once we educate people, they can do something for themselves. It doesn't necessarily translate into having an office job. It could be agriculture, learning how to sew, and many others. However, once you have an education, then you can help the whole community."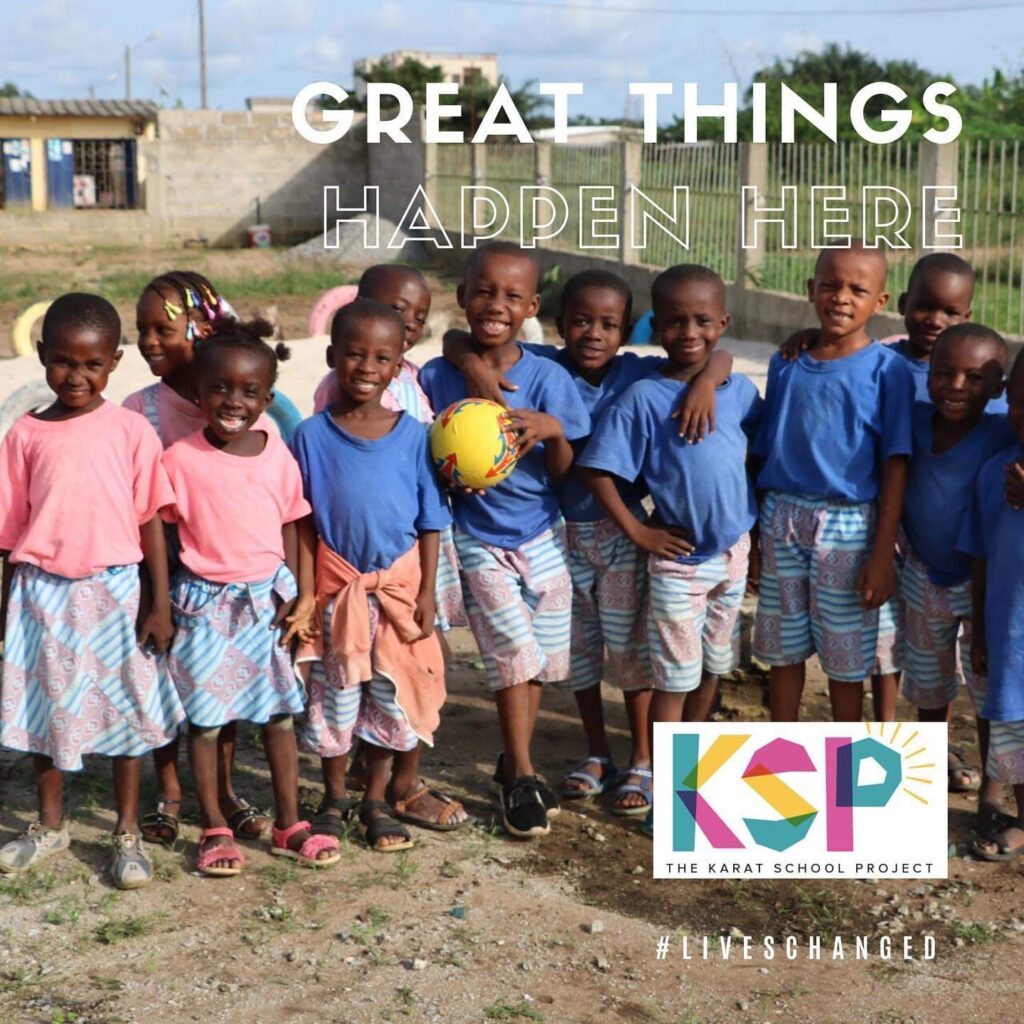 The Karat School Project
"I founded The Karat School Project in 2017 with the aim of providing education to children and women to help break the cycle of poverty. Primarily, we started by supporting women and children in the Ivory Coast. We were doing just that until COVID-19 hit. Local and international governments started shutting schools down, and lots of things were being done in panic. Through the panic, I saw an opportunity to help children right here in the US. All educational activities were being done online, but most of the children living in recreational vehicles (RVs) did not have access to education in the new ways in which it was being provided. Many children living in poverty right here on our streets do not have access to technology outside of schools, many of their parents have language barriers and cannot communicate via email like many do.
Using materials that were originally purchased to be shipped to Africa, we designed a package that will help these children stay engaged and learn while addressing some of their pressing needs such as access to meals and other urgently needed necessities.
That is how we started our COVID-19 relief program. Our packages included educational materials, food gift cards, gas cards, and needed technology. This helped bridge the educational gap for children living in RVs.
We also advocated for the families to enroll their children in school districts close to where they park their RVs. They called the place 'home' and not having a proof of residency should not stop their children from receiving education.
We engaged in COVID relief efforts in Africa as well. We knew from our experience on the ground that the lack of basic necessities such as clean and running water, and the lack of a steady income, especially for the women who support their families was going to pose a challenge. We knew that sheltering in place was not an option for mothers who work daily just to make enough money to feed their children; and that hand washing was not going to be accessible to those traveling miles to access water.
We installed hand washing stations in slums and poor areas in the Ivory Coast, and by working with an organization in Guinea we replicated the effort in slums there as well. Till date, we have installed over 500 hand washing station, distributed over 20000 pounds of food, and PPEs impacting over 6000 lives."
How does your organisation fund its activities?
"We are a California registered 501(c)(3) organisation, and this means we are nonprofit. People can go on our website and see all of the things that we do, and support us by donating to our cause. Every now and then, we apply for some local funding and also have fund raising activities. What we do involves a lot of money, but I consider it as an impact investment."
The Diaspora and Remittances
"Like everyone else in the diaspora, I commonly practice sending remittances. However, remittances don't solve the problem. It barely solves a problem for just a family. The problem with poverty and the economy is that everywhere in the world if one person has something, it doesn't necessarily benefit everyone else. And so, we need to create systems of income and training for everyone else in order to have equity happen at a bigger level. Remittances tend to focus on a person to person help. This is why I believe in education because one educated person can in turn help everyone else without having to share loads of money."
Personal life
"I'm a mother. I became a mother at 16 years. I have an amazing son who lives here in the USA. He wants to get into law school. In terms of work, I run my organization as a full-time volunteer CEO, I'm authoring a children's book based on my childhood, and I'm a livelong learner."
To support The Karat School Project, please donate here: https://theksp.org/donate
By: Theresa R. Fianko
Additional Information By: Evelyne Keoman
Image Attribution: Evelyne Keoman and The Karat School Project
Share this:
RELATED STORIES