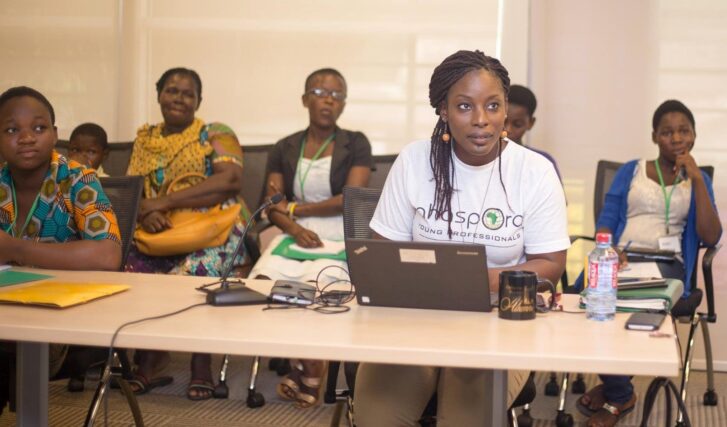 Christabel E. Dadzie is an international and economic development specialist by profession, and a human-centred person at heart.
After schooling and working in the US for over a decade, she decided to move to her homeland, Ghana for the first time in 2010.
Upon return, she occasionally met up and spoke with many young people from the diaspora many of whom occupied prominent positions within the private sector on how their transition was going; and the responses revealed a lot of similarities in terms of what she was experiencing, and the need for support.
Through these conversations, Christabel started thinking through the idea of supporting returnees to thrive while galvanizing them to do something different to give back to the country in a way that allows them to be solution oriented; instead of looking at the negative side of the transition. She met with 11 of her friends over lunch to tell them about the idea which they molded together. This culminated in the birth of Ahaspora in April 2011.
Ahaspora is an organisation of Ghanaian professionals who have lived or been educated outside Ghana, have returned home, and want to use their knowledge, skills, and resources to contribute towards making the country a better place.
"One of the toughest things in life is to be a 'foreigner' in your own country because when you are abroad, you can assimilate, but back home it can be very confusing given the expectations and the fact that you are different because of your travels. With Ahaspora, we help with the transition process so that more people will come home, essentially, we promote brain gain", Christabel said on the establishment of Ahaspora.
Ahaspora has grown into a large membership-based network of over 3000 professionals, with a vision of promoting brain gain by offering a support system for Ghanaian professionals and like-minded individuals who are thinking about or have returned home; in addition to providing a forum for this group to positively impact society.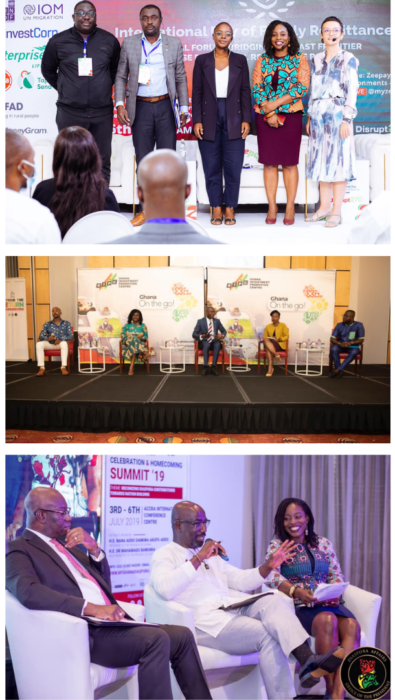 Ahaspora's Initiatives and Achievements
"At Ahaspora, our work has been in two-fold: transition support and community give back. On the support side we run an online listserv, and also organize in-person professional development networking events, industry webinars and 'Action Forums' where we pick salient topics and put out concrete action plans after discussion", Christabel explained.
"Our support also includes providing stakeholder input to national policies. This is primarily through our partnership with the Office of Diaspora Affairs in Ghana, where we were invited to provide feedback to the National Diaspora Engagement Policy among others. Our unique role of being from the diaspora but currently living at home, makes us a relevant partner to provide credible input to national policies related to the diaspora, as well as young professionals", she also said.
Ahaspora continues to remain intentional in providing programming that support diaspora and return issues, including a thought-leadership conference organized as part of the organization's 10th anniversary, called The Ghana Action Forum, which focused on key topic areas pertinent to diaspora engagement and national development.
"In terms of giving back, we initiated a mentoring programme in 2013 for high school students by giving them exposure to the 'real world' in terms of career, professional and personal development. Over time, mentoring has become a real niche for us where other organizations have engaged us to build mentoring and coaching communities on their behalf; Additionally, Ahaspora's give back activities have included adopting a community and supporting orphanages", she added.
Involving diasporas holistically in national development without focusing solely on remittances is important
"Another reason for the birth of Ahaspora was upon realization that support systems were not too strong. Remittances are excellent, but the focus has to be on more than just money. There is a connection that people will give back home if it feels like home. For diasporas to come back and settle or do business, governments need to provide an enabling environment capturing their social, professional, and personal support needs, which will invariably translate into investment. Currently, Ghana's government is doing well in attracting the diaspora to give, and have provided a lot of avenues and opportunities for them. If we continue to open up the spaces for people to come back and forth, true, sustainable development will be attained", Christabel shared.
Migration, brain drain and globalization
As an avid traveler, Christabel encourages others to explore the world. She says:
"Every time I travel, I come back a new person, and it helps me appreciate my country more or add ideas to my toolbox on areas through which I can help my country. We really need to be informed by our travels, but the mindset that everywhere else is better than your country is a problem which needs to be worked on, particularly with young people. Migration shouldn't become a burden on a country, and that is where the brain drain idea comes from. However, there is a lot of positive migration that comes from people who left, particularly to gain an education and exposure, and then come back home. We should identify role models in these people and focus on the positives of migration."
Ahaspora to the World
For Christabel, Ahaspora is a movement.
"It has always been a dream that the Ahaspora model would be replicated fitting the local space in other countries, especially on the African continent. I've been very open to sharing the model in that regard. For example, while doing some work in Zimbabwe, I shared the Ahaspora template, which led to a number of young people creating their own group. We need more 'Ahasporas' of Africa to encourage people to come back and also give back.
Christabel Is very intentional about positive wellbeing, and so she makes time for some of her favourite things.
"I do a lot of leisure travels when I get the time. Life is short and so I often spend a good amount of time with family and friends. I love cooking, especially baking, and engaging in intellectual conversations with like-minded people. I am also action-oriented, so always up to support a good cause", she concludes.
Join Ahaspora, or see more about their initiatives HERE.
Contact Ahaspora: info@ahaspora.com.
Interview by: Theresa R. Fianko
Additional Information: Christabel E. Dadzie
****All images used with the full permission of Christabel E. Dadzie & Ahaspora
Find out how our CONSULTANCY can help you with your Content Writing, Digital Marketing and PR requirements HERE.
Check out the latest diaspora, migration and diplomatic related Jobs HERE.
Submit your Press Release / Related Contributions HERE.
RELATED NEWS AND STORIES