When I first saw the art work of young Kenyan Artist, Eddy Ochieng, I was awed by its depth, composition, details and brilliance. Later in conversations I would be touched by his spiritual gravity, and sense of purpose.
Ochieng Like many emerging artists from the continent of Africa, has an unparalleled ability to create work in Hyperrealism, "a young art form of creating illusions by enhancing reality". Artists of this genre, (such as Ochieng), take their works beyond photographic quality by placing added focus on visual, social and cultural details of everyday life". Ref; USEUM.
His oil on canvas work in Hyperrealism is so advanced and detailed, that it places him amongst a distinct and elite category of emerging masters in that genre. His attention and expression to details is strong, penetrating…
Ochieng skillfully migrates the essence of the human spirit within the contemporary brush strokes of modern art technique. This is seen more radiantly in his water images.
As we look at his current body of work, for such a young and refined artist, we get a glimpse of how influential, important and valuable his future artworks will be with time, and greater potency. Ochieng's work gives dimension, homage and honor to the roots of life and creativity born out of African culture. The surreal structure of his work are stunning spiritual expressions of life that transcend time and space. He harmoniously and brilliantly captures the strength, spiritual essence and wisdom of the patriarchs.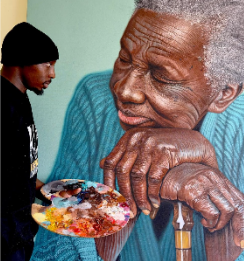 "Through these portraits of old people, I aim to spark conversations about the need for respect, care, and support for our aging population. It serves as a call to action for society to maintain a better balance between progress and the preservation of our cultural and spiritual roots." – Eddy Ochieng
"I believe collectors are drawn to my art because they see a timeless connection to the human experience." – Eddy Ochieng
Through the course of my interview with him, I gained a deeper understanding of his artistic process, I was impressed how focused and masterful he is as a young artist.
You started playing with art by scribbling at a young age?
"My interest in art started around 10 years old. I used to scribble on paper, then I started drawing my hands and other objects such as vases, cars, trees, etc. Art became a hobby. In High School, I began to study art formally." "That is where I learned more artistic details and techniques. Having the opportunity to showcase my work was exciting. It was in High School where I learned art basics such as value, shading, proportions, balance, etc. This training and experience was the foundation for more accurate compositions. It was following this period that I decided to make art my career."
Coming from a close knit traditional African family, how did your parents respond to your decision?
"It was very challenging sharing this decision with my parents. They viewed my artistic talent as a hobby. Their expectation for me was not as a professional artist. I was a good student, proficient in science and math. As tradition and culture required, I was encouraged to keep art as a hobby and pursue a more worthy' career in engineering. Over time my mother became a bit more lenient, and consequently supportive. She would often advocate for me. My dad however, his support would take time." "This was a period of about 4 years, which was very challenging for me. I had a deep desire to pursue art as a career and a deeper vision of me as a professional artist inside my being. So, I kept on painting. In time, my commission orders grew, and I was able to financially sustain myself. That level of faith, hard work, compensation and independence impressed my father. This was the turning point in his concession. This created the portal for his support that I honored."
What is your 'I am statement' as an artist?
"I am an artist who seeks to bridge the gap between different generations and groups of people with diverse lives, diverse cultures and identities by immortalizing the knowledge and experiences that exists in humanity. Through hyperrealism, I strive to show that every expression of the young and every wrinkle of the old, is a testament to a life well-lived, a life filled with spiritual significance for the future."
How would you describe your art in a spiritual sense?
"In a spiritual sense, my art is a celebration of the depth of culture and diversity that exists in the people around me as well as the wisdom and experiences of the elderly individuals in my African environment. It's a visual testament to the richness of their lives and the profound connection we have with our values. The one thing that joins us all together. Through my hyperrealistic portraits, I aim to capture not just their physical presence but also the essence of the stories they carry."
Is there a spiritual dimension to your art and process?
"Absolutely, there is a profound spiritual dimension to both my art and my creative process. When I paint these portraits, I engage in a meditative connection with my subjects, allowing their stories and experiences to guide my compositions. Most of the subjects I get to speak to and learn directly from them. It's a deeply spiritual journey for me, a way of paying homage to the profound and the collective wisdom they represent. Through this process, I believe that I'm channeling not just their physical likeness but also the spiritual lessons passed down to each successive generation."
What role do you think your art plays globally in the social, economic, or spiritual influence?
"My art serves as a bridge between cultures and generations. It holds a mirror to the value of older generations in our rapidly changing world. In a global context, it encourages dialogue about the importance of preserving traditions, respecting one another, appreciating diversity as humanity's tapestry beautifully woven together rather than the thing that divides us … .and finding spiritual depth in a fast-paced society by learning to slow down and self-reflect to become better people." "Through the process I've made so far, there's a great number of younger artists looking up to me (sometimes without even my knowledge) who are inspired to kick start their ideas into actual work that can help sustain their lives. Through the mentoring I do from time to time, they have seen that it's possible through hard work to make a living out of a talent."
How does your art bring to bear immediate conversation related to the social balance of humanity?
"Through these portraits of old people, I aim to spark conversations about the need for respect, care, and support for our aging population. It serves as a call to action for society to maintain a better balance between progress and the preservation of our cultural and spiritual roots."
What do you think other people see in your art that makes them want to add it to their collection?
"I believe collectors are drawn to my art because they see a timeless connection to the human experience. They recognize the universal beauty and significance of the individuals I portray. Collectors are not just acquiring a piece of art; they are acquiring a piece of history, a symbol of resilience, a vibrant hope for tomorrow and a tangible link to the cultural essence of humanity."
Do you use your art to make an intentional statement? If so, what is that statement? "Yes, my art is intentional in its statement. It speaks to the importance of embracing our identities, understanding who we are and being content in who we are, preserving our cultural heritage, and finding spiritual depth in our lives. It urges us to reflect on the social imbalances that affect our society and encourages us to prioritize the well-being of all generations. Ultimately, my art is a statement of respect, continuity, and unity in the tapestry of humanity."
Africa has some of the most prolific and talented artists globally. Where do you see the long term impact of African Art in the global marketplace going forward?
"I believe we as African Artists will continue to push boundaries and show creative forces beyond the norm, or the expected. The extent of our collective creativity is constantly growing, emerging and expanding. The value of our art is also reaching new levels in the global marketplace. "Consequently, Art from Africa will continue to rise in value and be in demand by private collectors, museums, galleries and organizations. These sales will always have a substantial global economic impact."
You come from a very close knit African Family, how has that influenced your decision to marry young, when many young artists are choosing to remain single and professionally focused?
"Growing up in a nurturing and loving family, we learned to care for, value, and support each other well. We see family as a source of wisdom. We understand the strength in unity. So making the decision to marry was not difficult for me. I was gifted with a wonderful, beautiful, supportive and loving wife. Our marriage is a source of mutual support and affirmation of our gifts and purpose. Therefore, our union has been a blessing in many ways. It has given me greater synergy which has greatly influenced my work."
_____________________________________
Eddy Ochieng has an impressive following of global collectors that admire, commission, and acquire his work. The US is his top selling market. His work has also caught the attention of international galleries Eddy has been part of group exhibitions. His first solo exhibition will open this November (2023), in London.
Interview by: Sonia M. Wignall, October 8, 2023.
*****All images used with the permission of Sonia M. Wignall.
Sonia M. Wignall is the CEO of the Diaspora Global Foundation.
For more information about the Diaspora Global Foundation, kindly visit their http://www.diasporaglobalfoundation.org/.