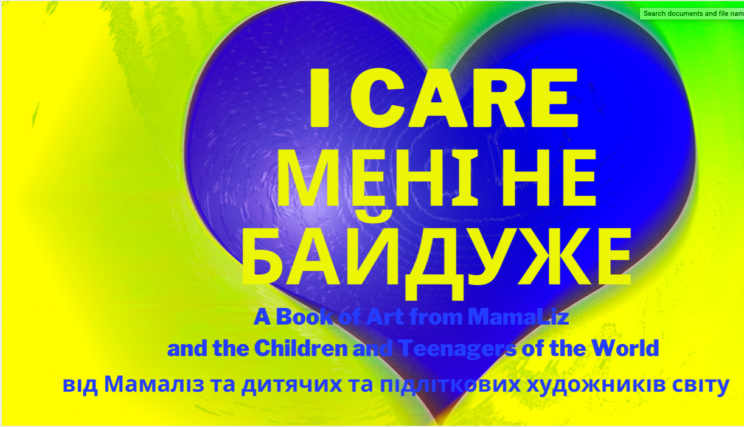 In the midst of turbulence and uncertainty in Ukraine, impact-led author Liz Franklin, widely known as MamaLiz has joined forces with children and teenagers of the world to create a book of art, as a special gift to children in that country.
The book – "I Care", dedicated to the children in Ukraine (also refugee children and children in trauma), is to remind them of happy times and to put a smile on their faces.
The 46-page book is filled with drawings and paintings of children around the world who have come together with one voice to simply say, "I care."
These children globally saw the pain, thought about what it must feel like to be in their shoes, and shared a creative drawing of childhood fun and happy moments to help children in trauma smile again—with their pictures coming straight from the heart.
Earlier on in 2022, MamaLiz released a book of encouragement "It's Gonna Be Okay" – with a story line dedicated to the brave mothers and children of Ukraine.
Speaking on her latest publication, she said:" The "I Care" book has one purpose – to help children remember the good times, before the war, and before the trauma when being a child was all they had to be. Now they have to be survivors and overcomers."
MamaLiz also faced a series of challenges during the period of curating this book, and she chronicles them to encourage everyone to be resilient:
"There have been so many obstacles to pulling this together! I had an accident that shut me down for four months. Some children artists had to work through trauma in their own countries. My Haitian children suffered a cholera outbreak in their country and violence in the streets, but we got the paintings through. Peru had a political upheaval and riots in the streets, but they got the artwork to me. Some children pictured as artists did not get their art in at all. They hung their art on a line outside to encourage the children in their school. It rained and ruined their art, but they are still a part of this", she concludes.
In line with this, MamaLiz has initiated a connected project that is open to children all over the world to understand, and be empathetic towards the pain of their fellow children who are in a state of trauma or hurting for no fault of theirs.
Children, globally are encouraged to donate a drawing or graphic design to the "I Care" book series. Doing this will inspire the creativity in them while shaping a generation through empathy by showing love and kindness.
DETAILS:
Draw or create a picture that would make another child happy to show love and encouragement to these children or teenagers. On the picture, write 'I CARE' in your language and underneath, the child's first name and country. All drawings by donations only. Parent and child must sign a release form for use in print and e-book formats. Send artwork to mama.liz.fra@gmail.com
Proceeds for all Amazon paperbacks in the 'War Series for Children' will be donated to refugee centers for children.
Download your copy of "I Care" HERE, and also share with all your Ukrainian connections especially those in the refugee centers.
ABOUT LIZ FRANKLIN
Liz (MamaLiz) Franklin is a public speaker and author of over 30 books to inspire children, teens, and college students to achieve greatness with motivation, time, and success principles. She heads A Million Dreams for Kids and Teens, a non-profit to empower youth worldwide.
In the spring of 2020, Liz spearheaded an initiative to empower the world's children in the battle against COVID-19 with a free e-book. It was translated into 25 languages and impacted children in 70 nations. In 2021, she released a series of nine more free covid-kids e-books. She also released a book in 2022 dedicated to mothers and children of Ukraine in the midst of war.
A content creator on LinkedIn, Liz has been on different media platforms, and been recognised in the TOP 50 Most Impactful Influencers on LinkedIn for 2021, TOP 20 Impactful Hoinser Women 2022, A TOP Person Ambassador, America's Top 2000 Women, World's Who's Who of Women, and many more.
By: Theresa R. Fianko
Additional Information: Liz Franklin
Images used with the permission of: Liz Franklin
Find out how our CONSULTANCY can help you with your Content Writing, Digital Marketing and PR requirements HERE.
Check out the latest diaspora, migration and diplomatic related Jobs HERE.
Submit your Press Release / Related Contributions HERE.
RELATED STORIES