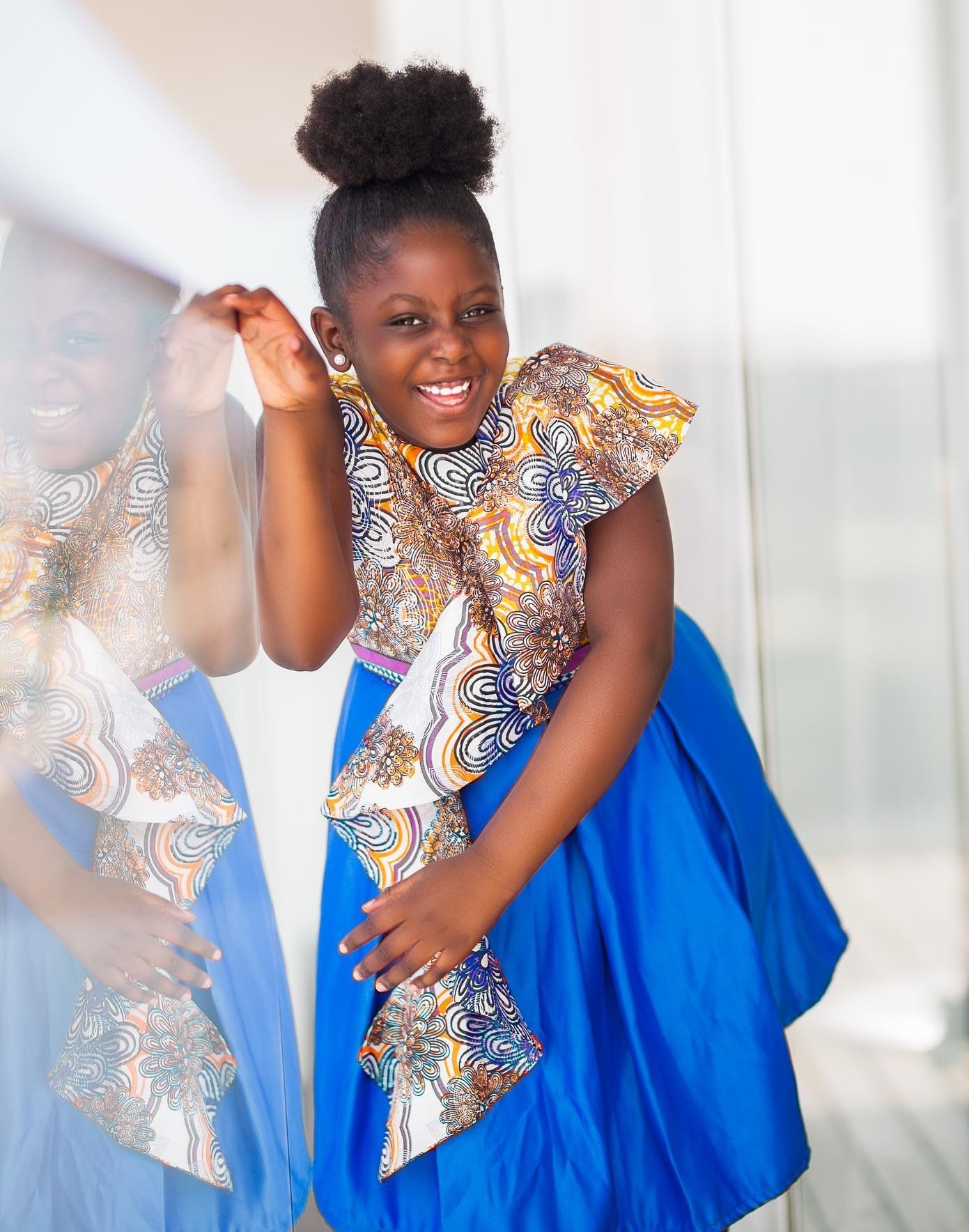 Awiyah in the Ghanaian Twi dialect means, 'sun' or sunshine.' It is little wonder that our young Diasporan Personality is strong, dazzling, fierce and vibrant.
Born Awiyah Amoateng in the UK, the very intelligent girl has made huge strides following the successes chalked by her mother; Dentaa Amoateng MBE who is highly influential within the Ghanaian diaspora community.
By the time she turned six, she had already launched her Jumbo Braid Collection featuring premium hair extension pieces for children of African descent.
Awiyah also loves acting and modeling; and is a Brand Ambassador for many child friendly products including those from her own line. Recently, she launched her latest skincare range with the lead product being the 'Princess Awiyah Shea Butter'. Known for having skin with a unique chocolate glow, her current line also has products like the Alata Semina (black soap) and popular Ghanaian exfoliator (sapor). As to what inspired her to come up with this collection, she has this to say: "My Mum always uses shea butter on my skin and I know it has contributed greatly to me having this type of skin therefore, I want everyone around the world to share in the beauty shea butter brings with a touch of love for everyone. I hope my loved ones from the diaspora get to have a feel of this native goodness from Ghana."
Top: The Princess Awiyah Jumbo braid Collection
Bottom: Princess Awiyah's latest skincare product range
Even though Awiyah was born and raised in England, she is very proud of her Ghanaian heritage and has been to the country several times. She has met with many influential Ghanaians including ex-Presidents and toured several cultural sites. This is what she has to say about connecting with her country of residence to that of her descent: "Ghana is my route, Ghana made me therefore regardless of where I find myself, I am a Ghanaian, I represent Ghana and I am proud of it. My Mum taught me to eat Ghana, wear Ghana and be Ghanaian."
Awiyah is the third of four siblings and currently the only daughter of her parents. Her mother, Dentaa Amoateng MBE who also doubles as her manager is an award winning British Ghanaian entrepreneur, actress, singer, producer, consultant and TV Presenter. In 2016, she was awarded an MBE at Her Majesty The Queen Elizabeth II's Birthday Honors. She is also the President of the GUBA Enterprise, nurse, philanthropist and Head of Diaspora and International Relations at Asante Kotoko Sporting Club.
Speaking about her daughter's latest skincare range, Dentaa expresses happiness about the launch of the products and "believes that a lot of people around the world will share in the joy and benefits of the organic shea butter her daughter and the family have been enjoying."
Her siblings; Nuquari, Adansi and Enijie are equally strong young Diasporan Personalities in their own rights. Awiyah though seems to have grown a large following among them, and won the admiration of many with her wits and excellent communication skills from a very tender age.
Top: Awiyah with her Mum, Dentaa Amoateng MBE
Bottom: Awiyah and her siblings Nuquari, Adansi and Enijie
You can follow her on Facebook and Instagram or subscribe to her YouTube Channel to connect and keep up with her exciting journey.
All of Princess Awiyah's products are certified for quality by relevant authorities and available in the UK, US and Ghana. Kindly visit www.awiyahsheabutter.com for more information.
At Diaspora Digital News, we are certainly motivated and proud of this young Personality who is ready to break barriers in the world by being true to her identity and heritage. We believe she serves as an inspiration to other children and parents to support their wards to be the best version of themselves.
By: Theresa R. Fianko
With additional information from: Dentaa Amoateng MBE and Attractivemustapha.com
All images used with the permission of: Dentaa Amoateng MBE
***As part of our Editorial Policy, we take full permission of parents or guardians of minors before publishing their stories/ images. Full permission has been granted to us by Dentaa Amoateng MBE, mother of Awiyah Amoateng allowing publication of this story.
Share this:
RELATED STORIES