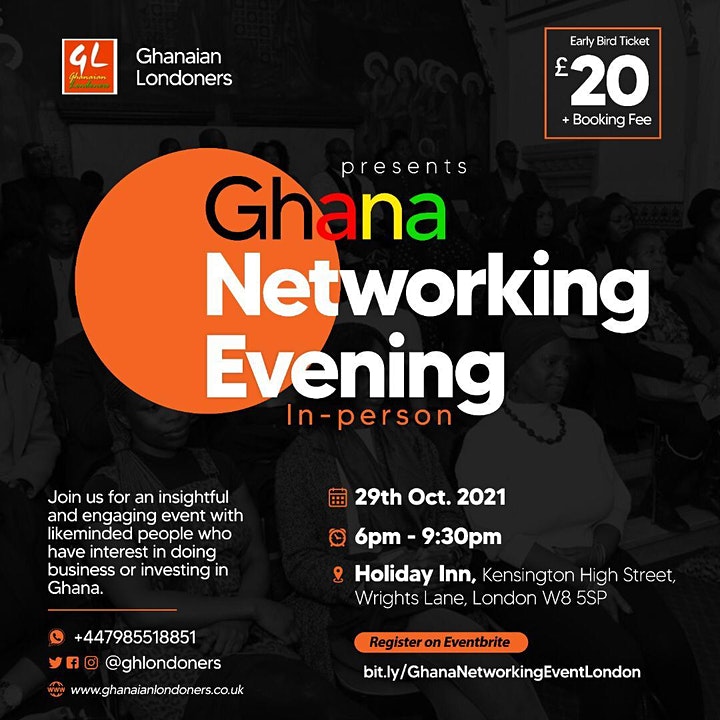 As part of the UK Black History Month celebrations, Ghanaian Londoners Network presents: the 'Ghana Networking Evening.'
The in-person event to be held under the theme "Inspiration, Opportunities and Networking" will come off on Friday, 29th of October 2021 from 6p till 9pm at the Holiday Inn, Kensington High Street, Wrights Lane, London, W8 5SP.
The Ghana Networking Evening is designed for likeminded professionals and entrepreneurs from all sectors who have interest in connecting, doing business, relocating, visiting or investing in Ghana.
A recent diaspora engagement mapping for Ghana by EUDiF revealed that remittances from the diaspora contributed to 5.5 percent of the country's GDP. Taking remittances as a stand-alone even proves that the role of global diasporas in nation building cannot be overemphasized.
The Ghana Networking Evening will therefore feature relevant speakers who are making an impact in their chosen fields – living, investing and doing business in Ghana. Each of these speakers will be sharing their experiences, insights, stories, lessons and opportunities available in their various sectors. They will also offer tips and advice for anyone else thinking of making the move to Ghana; either to invest, do business, relocate or looking to build a solid network.
Meet the Speakers
Samuel Brooksworth – Founder & CEO of Remoteli
Lorraine Wright – CEO, VOCSTA & @lionanails
Afia Biney – CEO, Kindelle Group & @fait_maison_ghana
Adwoa Agyemang – Founder Ghanaian Londoners Network
Joanna Diana Steele – Digital Strategist and CEO at @dimax_digital
Gbontwi Anyetei – Entrepreneur, Author & Activist
Kofi Anku – MD, Pokuase Heights and Partner at Ayi Mensah Park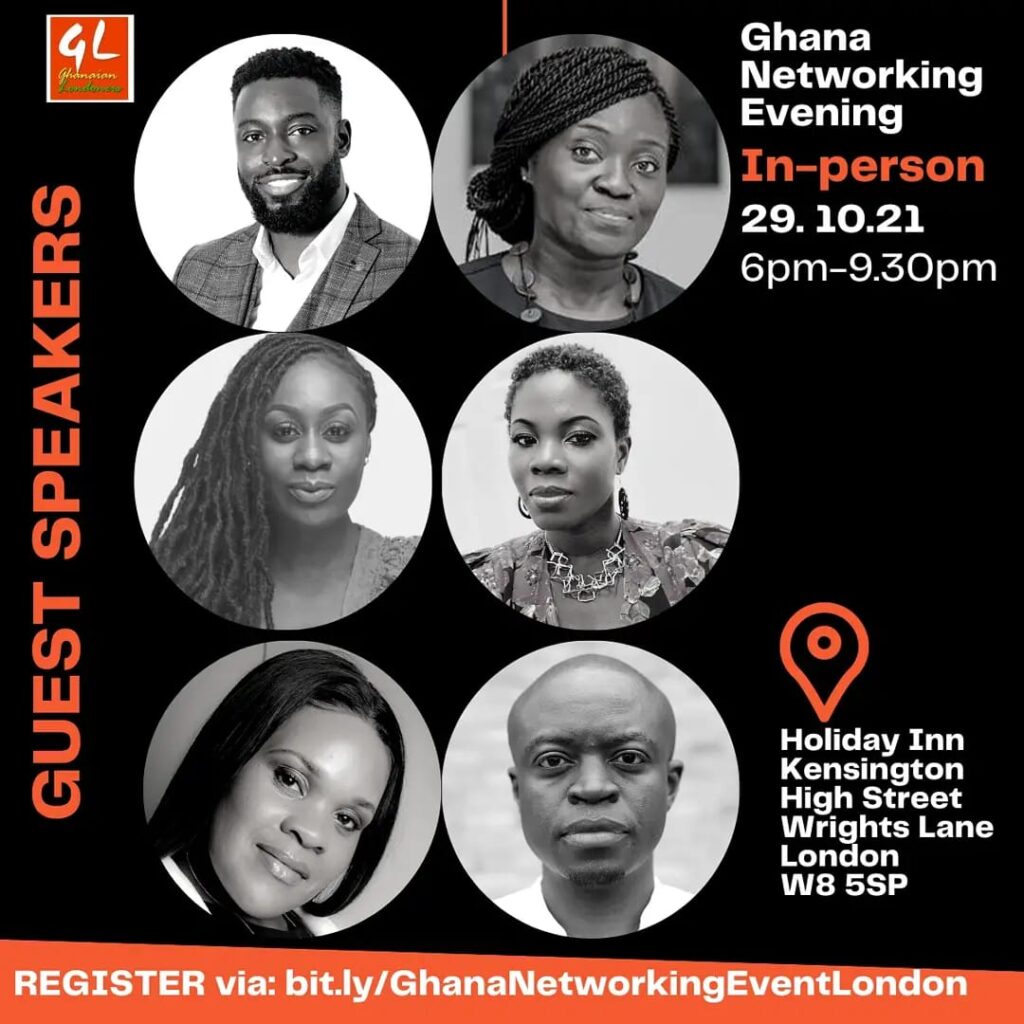 Who should attend?
The event is open to all professionals, entrepreneurs, and generally the Ghanaian diaspora in the UK. Anyone with interest in Ghana and the African Diaspora – whether they are start-ups, SMEs, individual private investors, business people seeking investment opportunities, or looking to relocate with a business idea are encouraged to attend. People and establishments looking to find local partners or expand in Ghana must consider being present at the Ghana Networking Evening.
What to expect
An amazing lineup of guest speakers sharing their experiences and insights into doing business in Ghana, UK + Q&As.
‪Find out the Top 5 investment opportunities in Ghana now.
‪Get the Top 5 tips for those considering relocation.
‪Spotlight on the UK government's opportunities for doing business with Ghana.
‪60 seconds slot to talk about your business/project for those who register in advance.
‪Ghana Quiz with awesome prizes.
‪Networking with like-minded people.
‪Light refreshments.
There will be an opportunity for Q&A's.
An amazing evening of great connections with a guarantee by the organisers that you will leave the event feeling inspired.
Speaking further on expectations for the event, Founder of Ghanaian Londoners Network – Adwoa Agyemang said: "This is our signature event that brings our community together to network with like-minded people; creating amazing moments through the stories, ideas, and knowledge shared. We hope it serves as an inspiration for people to take advantage of the various opportunities that exists."
Founded in 2009, the Ghanaian Londoners Network provides opportunities for the Ghanaian diaspora in the UK to connect; with focus areas on business, investments, networking, insights and more. To this end, it has organised in-person and online events; and has been involved with several conferences, exhibitions and other diaspora programs.
The Ghana Networking Evening promises to be nothing short of engaging and insightful; and patrons can expect to meet with likeminded people who have interest in doing business, investing or visiting Ghana.
Keeping with adherence to COVID-19 protocols, there will be limited capacity at the venue to allow for the needed social distancing. Attendees however, will have shared responsibility with organisers in terms of safety of the event by being flexible to follow any COVID-19 related procedures, as well as all changes which may come up; and to comply.
Get tickets HERE.
‪For questions, please drop an email to: info@ghanaianlondoners.co.uk.
To get more information about Ghanaian Londoners Network, kindly visit their WEBSITE.
By: Theresa R. Fianko
With additional information from: Adwoa Agyemang and Ghanaian Londoners Network
Image Attribution: Ghanaian Londoners Network
Share this:
RELATED STORIES