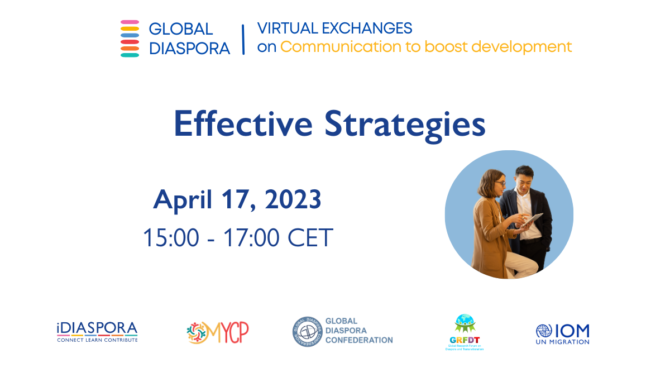 The 2023 session of the Global Diaspora Virtual Exchanges is set to take place on April 17, from 15:00 – 17:00 CET.
This year's edition will focus on enhancing communication techniques, strategies and tools across the different phases of project management; by providing concrete strategies on how to enhance their communication skills, consider strategic techniques and implement new tools, stakeholders will be able to maximise the impact of their transnational initiatives.
Led by IOM – iDiaspora, the Global Diaspora Confederation (GDC), GRFDT and the Migration Youth and Children Platform (MYCP), the Global Diaspora Virtual Exchanges is a unique space where diasporas share best practices at the global level and collaborate with each other to empower themselves and other diaspora leaders and organizations as development actors.
Diaspora Digital News' Theresa R. Fianko, has been confirmed as one of the speakers for the event.
Other stellar panelists to look forward to include Goracci Monica from IOM- UN Migration, Vivian Nwakolobi – Ibeji – Global Diaspora Confederation, Jacklyne Kuhn – Kenyan Women in Germany, Paddy Siyanga Knudsen – GRFDT Forum, and Natalia Kossowska – Migration Youth & Children Platform.
IMAGE:Panelists for Global Diaspora Virtual Exchanges 2023. Credit: IOM – iDiaspora
In 2020, iDiaspora coordinated three global exchanges with members of the diaspora responding to the pandemic. Through these virtual dialogues, different actors involved in the development of diasporic initiatives in America, Europe, Africa, and Asia were able to learn and share relevant experience to better include their members when responding to the global health crisis.
In 2021, iDiaspora, GRFDT, CISAN and ADEPT co-organised the second Global Diaspora Exchanges to respond to the common challenges highlighted by stakeholders during the 2020 exchanges such as the lack of trust, difficulties regarding fundraising and the sustainability of initiatives in the long term.
In 2022, IOM, co-hosted the first Global Diaspora Summit (GDS), in partnership with the Government of Ireland and other lead participating states.
In 2023, in response to the consultations held during the Global Diaspora Week 2022, organised by the Global Diaspora Confederation a request was made by diaspora organizations to keep supporting diaspora communities to boost their capacities for development.
It is on the back of these that the 2023 Global Exchanges has been themed to focus on enhancing communication techniques, strategies and tools.
Register Now to attend the event HERE.
Source: IOM – iDiaspora
Edited by: Theresa R. Fianko
Image Attribution: IOM – iDiaspora
Find out how our CONSULTANCY can help you with your Content Writing, Digital Marketing and PR requirements HERE.
Check out the latest diaspora, migration and diplomatic related Jobs HERE.
Submit your Press Release / Related Contributions HERE.
RELATED NEWS AND STORIES