Marta Nowicka is a Polish visual artist and designer living in the New Jersey, USA where she relocated about two and a half years ago.
In addition, she is an intercultural trainer and a business coach who has for a decade trained hundreds of expats, preparing them and their families for relocation to a new country. For the last couple of years, she has actually been experiencing this process herself.
"I would define myself as a modern abstract expressionist and intuitive painter interested in the interaction between colors, shapes, and textures", she says.
As an abstract, contemporary painter, she loves bold vibrant colours like the ones seen on tropical flowers and plants.
"I love all shades of blues – especially teals of Caribbean waters. I lately discovered that my love for bright, saturated colors is a result of me being born and raised in communist Poland. In my childhood, everything seemed gray – streets, buildings, clothes – at least that's my memory, so I was fascinated by foreign lands, exotic colorful plants, and generally colorful neon, buildings, and clothes I have watched in foreign movies", says Marta.
In her art, she mainly paints abstract paintings and abstracted landscapes and florals. She is also a printmaker; making monoprints and monotypes – in addition to creating digital paintings, surface designs, and sometimes jewelry.
Marta has in her collection paintings influenced by her migration and relocation experiences.
"Decision was created before our move after visiting NYC and NJ. It was a visual expression of the decision process I had experienced. Should we move? Where? NYC or maybe NJ? What would be the best option for our family?", Marta explains.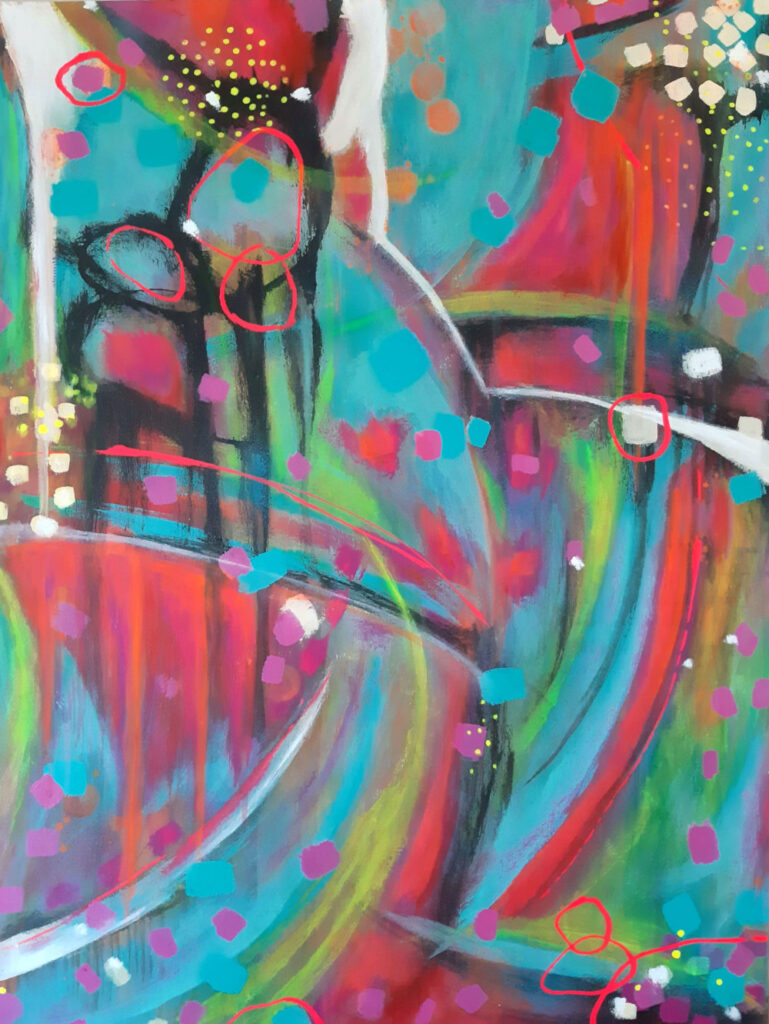 "Stay Positive was created in March 2020, just after the pandemic started, during our first three months after the move. It was a difficult time of adjustment and fear about the family we have left in Poland. The goal of this painting for me was to maintain positive emotions and also bring positive feelings to viewers via bold vibrant colors and energetic brush marks", Marta adds.
With art, Marta wants to make positive impact on people's life, as well as comforting and cheering people in some of their difficult moments.
"I want my art to bring positive emotions to people – JOY, ENERGY, HAPPINESS. I hope my paintings will bring energy, positive feelings and unique beauty to the interior; and also make people stop and appreciate the world around them, in addition to helping them create a happy and meaningful life", she explains.
She has received several positive reviews from collectors and people, who liked her paintings, attesting to how her work evokes optimism, energy and expression of emotions. Her works have been showcased in several exhibitions and also been recognised with awards such as the "Winner of Outstanding Digital Work" at the BoldBrush Painting Competition, just to mention a few.
Marta has also published journals for people to write down their memories and self-discovery journeys. The publications have coaching questions that help in increasing self-awareness; and also includes her art that can be used as a visual metaphor or prompt while answering these questions. You may get copies of the journals here:
Abstract Art Journal with original artworks & self-discovery questions
Kaleidoscope Art Journal with original artworks & self-discovery questions
Marta loves traveling, taking pictures of the blue ocean, palm trees, old Victorian houses and having a tropical feel. Her favorite places include Tuscany in Italy, Provence and Dordogne region in France, Warmia – Mazurian Lake district in Poland as well as Key West, California, Savannah, GA, Miami, Cape May NJ all in the US.
She enjoys good Sci-Fi movies and board games; and loves Mexican food, Bollywood movies, and Polish pierogies.
To know more about Marta's works, kindly visit her WEBSITE orINSTAGRAM handle.
By: Theresa R. Fianko
****Images used with the full permission of Marta Nowicka
RELATED STORIES