When it comes to contemporary African diaspora art, Oliver Enwonwu is a relevant household name not only in Nigeria but also on the global scene. In addition to being an artist, he is an author, publisher, thought leader and brand strategist.
Oliver is participating at this year's AfroSoul virtual exhibition from 1st December 2020 until 28th February 2021; he is also a panelist at the discussion on 'Contemporary African Diaspora Art' on 6th December 2020. We are honoured to speak with him about the exhibition, the visual arts industry, as well as his other endeavours.
Family history of Art and passion for the Africa continent
"I come from a long line of artists", says Oliver.
"My grandfather was a traditional sculptor of repute in Onitsha, south-eastern Nigeria where I am from. My father, Ben Enwonwu is widely celebrated as the most influential African artist of the 20th Century.
Coming from this background and my own convictions, I believe it is important for Africans to tell their own story. There are so many negative stereotypes of corruption, poverty and suffering. Africa has a teaming population of about 20 percent youth and they are the future. We need to promote good stories from Africa by celebrating African personages and their achievements rather than contributing to negative stereotypes currently in the media and everywhere else. If you look at what is going on in the world like police brutality and systemic racism, it is about time we celebrate one another, black excellence, and all the other things that define us as a people. The Slave Trade and European Imperialism are only a few of the experiences that have contributed to our struggles in carving out our own identities in the post-colonial period. It is therefore important for us as emerging African nations to work against systemic racism so that we are judged by our merits rather than the colour of our skin. Accounts of Western art history underrepresent black people; the situation is much the same today. This is the reason I blend the best of western techniques with our indigenous traditions to promote my people and culture, and why my work resonates strongly with the theme of the exhibition."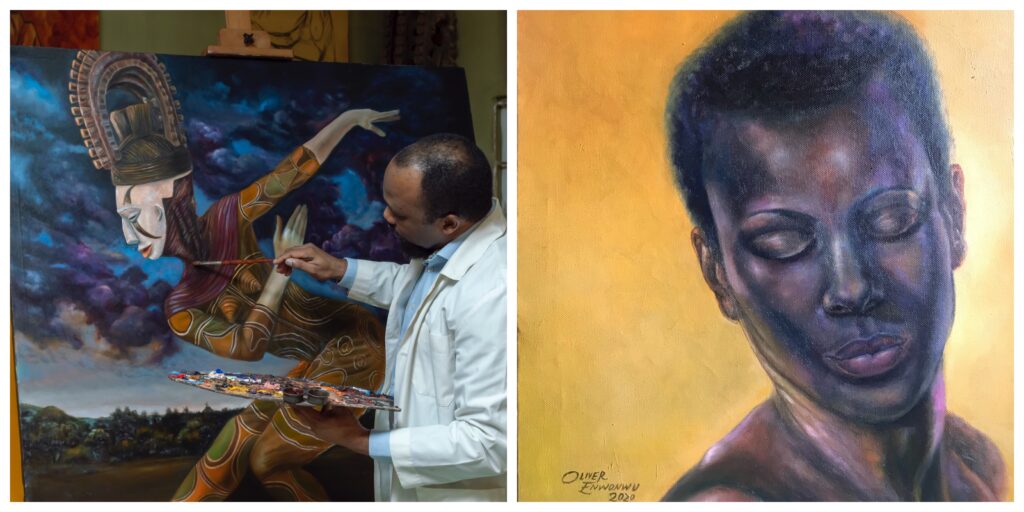 Showcasing my art at the AfroSoul exhibition
"I chose to be part of the show for two major reasons. Firstly, I am African and so identify strongly with the AfroSoul theme. In seeking solutions to pertinent issues affecting the African continent, I believe it is important for us to tell our story through our rich art and culture. This is the primary role of an artist. Secondly, I have a lot of confidence in the work of Ludlow E. Bailey as a longstanding and experienced curator of global repute."
Image (Top): Patrice, 2020 by Oliver Enwonwu, oil on canvas, 40.5 x 40.5cm
Image (Bottom): Right: From the Wanderer series by Oliver Enwonwu, 2020, Oil on canvas, 61 x 52cm
Varied interests and their connection to the visual arts
Oliver is the Founder and Editor-in-Chief of Omenka, a premium art, business and luxury lifestyle magazine for Africa and its diaspora. He is also the Director of Omenka Gallery and Chief Executive of Revilo, a publishing and marketing communications company based in Lagos, Nigeria. So how does he keep all these together successfully?
"They all appear to be in different sectors, but there is a connecting link between all that I do. For instance, the gallery promotes the work of established and emerging artists whose work resonates with Africa and her diaspora. However, at Revilo, we publish across print and online, to promote artists through critical texts in trying to place them within broader narratives of artistic practice on the continent and globally. Whilst Omenka Gallery is a physical space, Revilo is a print and online platform; they are closely related as they both have art at their core though they operate through different channels. I also serve as President of the Society of Nigerian Artists, the professional body for all practicing visual artists in Nigeria. My duties include mentoring and promoting the work of young artists, as well as giving them opportunities to exhibit, network, and collaborate on projects.
The Omenka Magazine has a global readership, and we try as much as possible to reach new audiences all the time. As I said earlier, I am passionate about telling the African story in our own way and from our own experiences. As well as in print, Omenka is also published online, and so lends itself to a global audience. One can sit anywhere in the world and access it. We are committed to promoting art and culture of Africa and her related diaspora. Therefore, in many ways, all of these different endeavours are inextricably linked."
The Ben Enwonwu Foundation
"I established the foundation 17 years ago in honour of my late father who is widely acclaimed as Africa's foremost modern artist. In 1957, he became the first African artist Queen Elizabeth II sat for. The sittings were 12 in all, beginning at Buckingham Palace, and the resulting bronze sculpture was celebrated all over the world. His fame was also enlisted in support of black nationalist struggles.
The Foundation was set up to preserve his legacy and contribution to art. We organise exhibitions, workshops, talks and conferences, to explore the role of art in shaping society positively. We also help with scholarships for students studying art in tertiary institutions in Nigeria and hold residences to connect artists to mentors while providing them opportunities to network and collaborate.
Impact of COVID-19 on the visual arts industry
Oliver is an artist, art administrator, curator, and industry player of global repute. We sought to find his views on how the COVID-19 global pandemic has affected the art industry.
"It has forced several galleries to go virtual with online exhibitions. Collectors are beginning to understand they don't necessarily have to visit a physical space to view and acquire art works. The beauty is that we have also actually embraced technology quicker. This is a good development. For instance, the increasing number of online talks and meetings makes hours more productive; one doesn't need to spend many hours in traffic. With the lockdown and prohibited movement, artists have drawn new inspiration from time in solitude and deep reflection. In addition, several others are through their work encouraging people to be their brother's keeper, as well as keep a high level of personal hygiene and social distancing. A downside, however, is that the pandemic has stifled the economy. The result is that the purchasing power of many collectors has dwindled. Artists are feeling the impact because they cannot sell as much as they usually would. To survive, some galleries have laid off or furloughed their staff."
For more information on Oliver Enwonwu, kindly visit: WEBSITE
For more information on the Ben Enwonwu Foundation, kindly visit: WEBSITE
To read the Omenka Magazine, kindly visit: WEBSITE
Interview by: Theresa R. Fianko
With Additional Information from: Oliver Enwonwu
All images used with the full permission of Oliver Enwonwu
Share this:
RELATED STORIES